Do you want to convert your PKT to WPKT (Wrapped PKT) in order to buy BNB, USDT, or other tokens on Pancakeswap or Metamask using Odapp?
You've come to the right place.
Let's get started.
Prerequisite
First of all, you need to install Metamask in your Chrome browser.

Once installed, set it up. Start with a new wallet if you already have one, otherwise ignore if you already have one.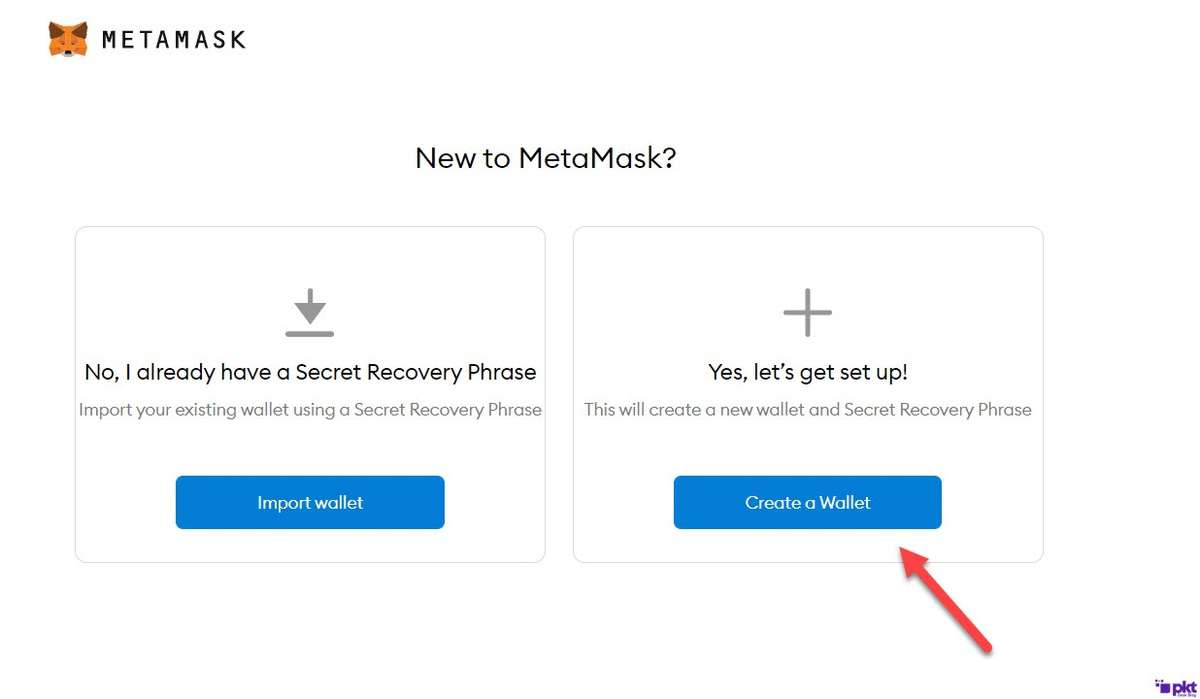 Don't forget to set a hard-to-guess password for your wallet.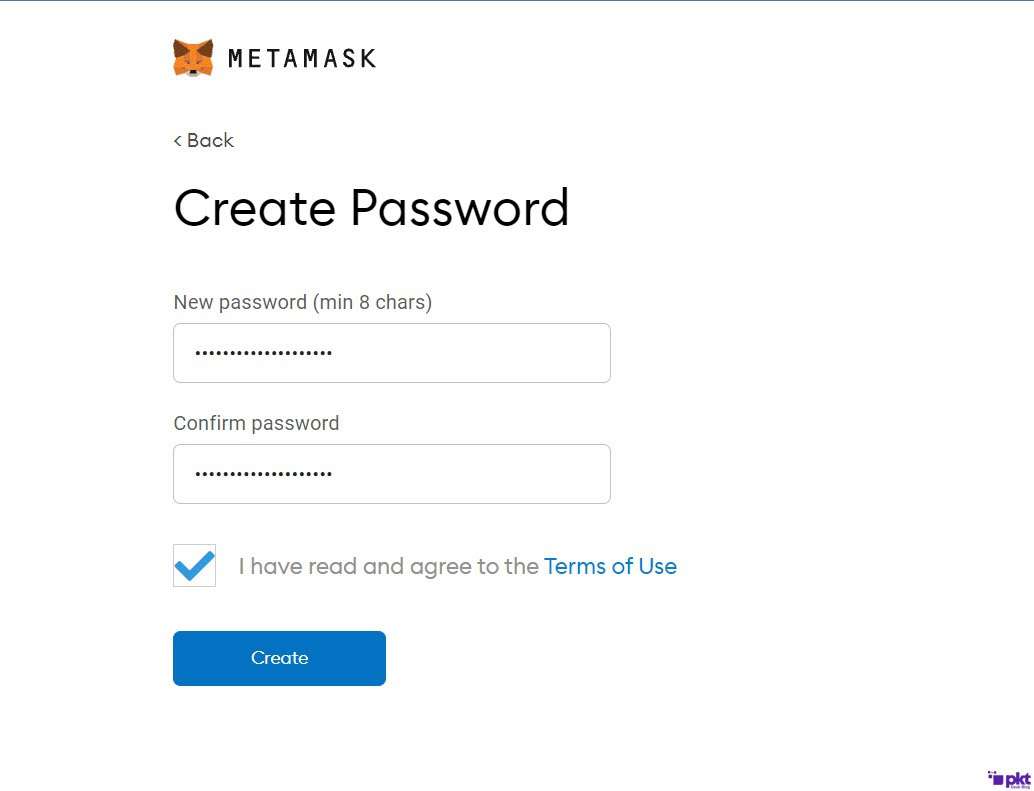 Later on, you'll be provided with a seed phrase that you need to keep in a safe location. If you forget your seed and password, no matter how much money you have in your wallet, you cannot recover.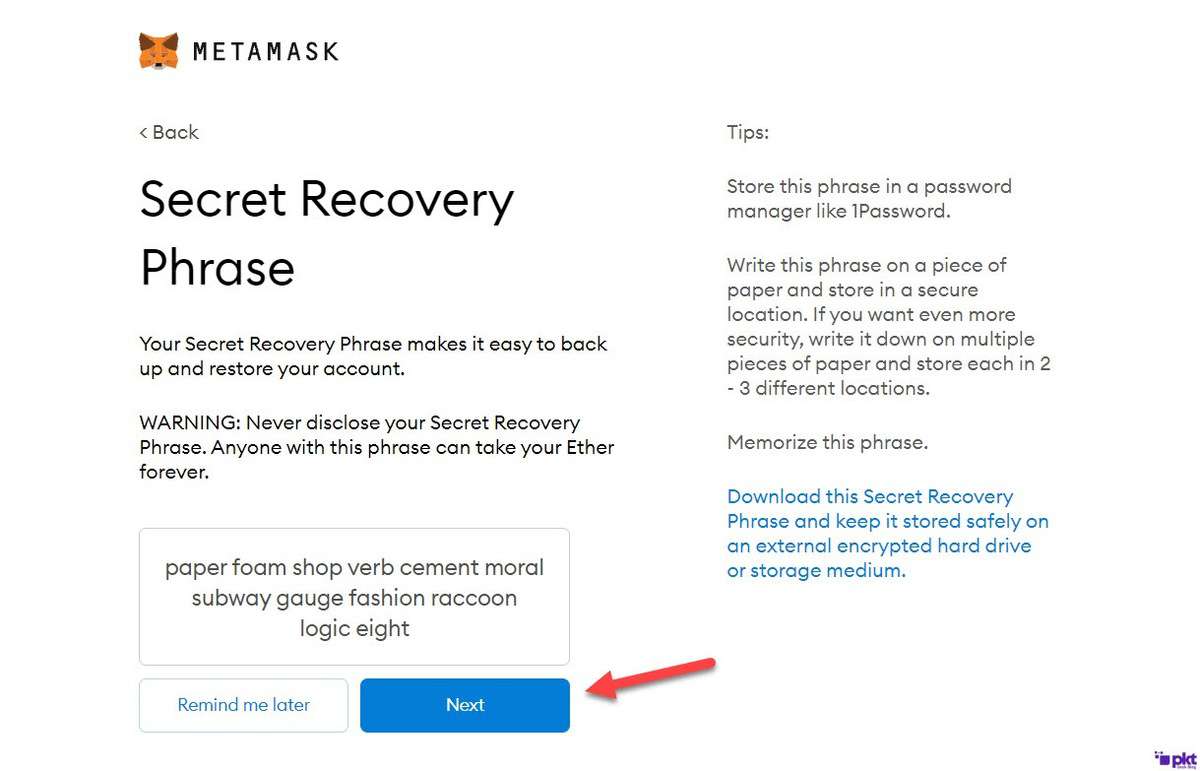 It's better to pin the extension in your Chrome extension.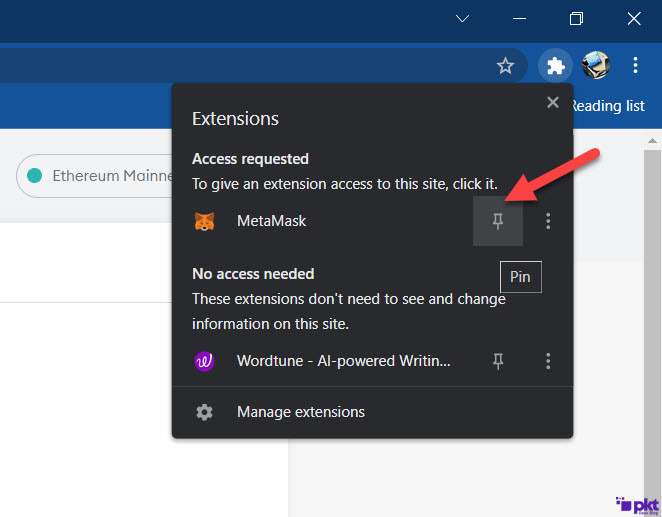 You need to select the custom RPC for BNB. Why? wPKT is made using Binance Smart Chain.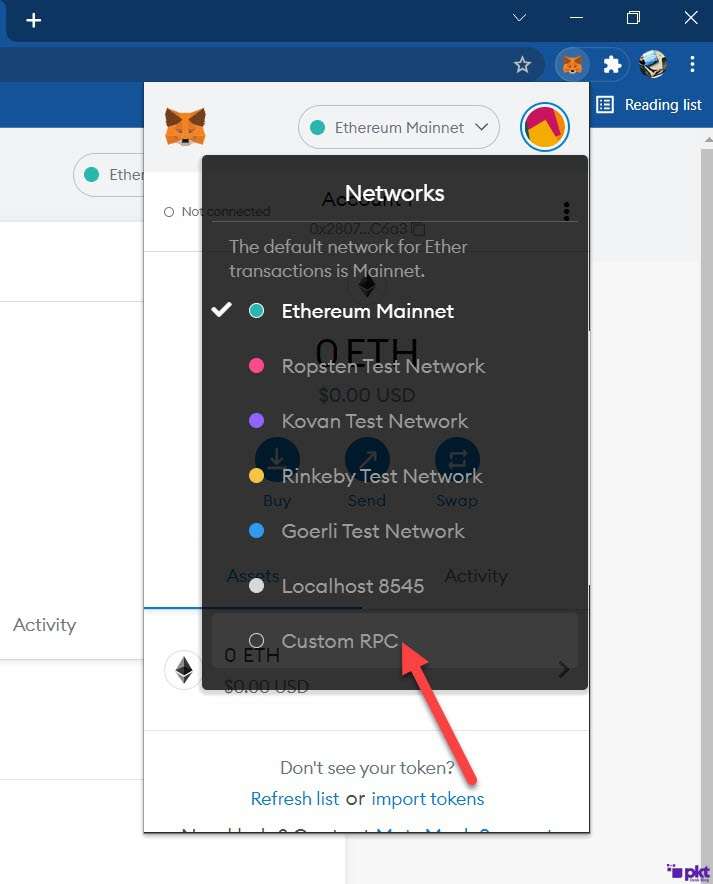 Now put the below values into your Metamask as a Custom RPC.
Network Name: Smart Chain
New RPC URL: https://bsc-dataseed.binance.org/
ChainID: 56
Symbol: BNB
Block Explorer URL: https://bscscan.com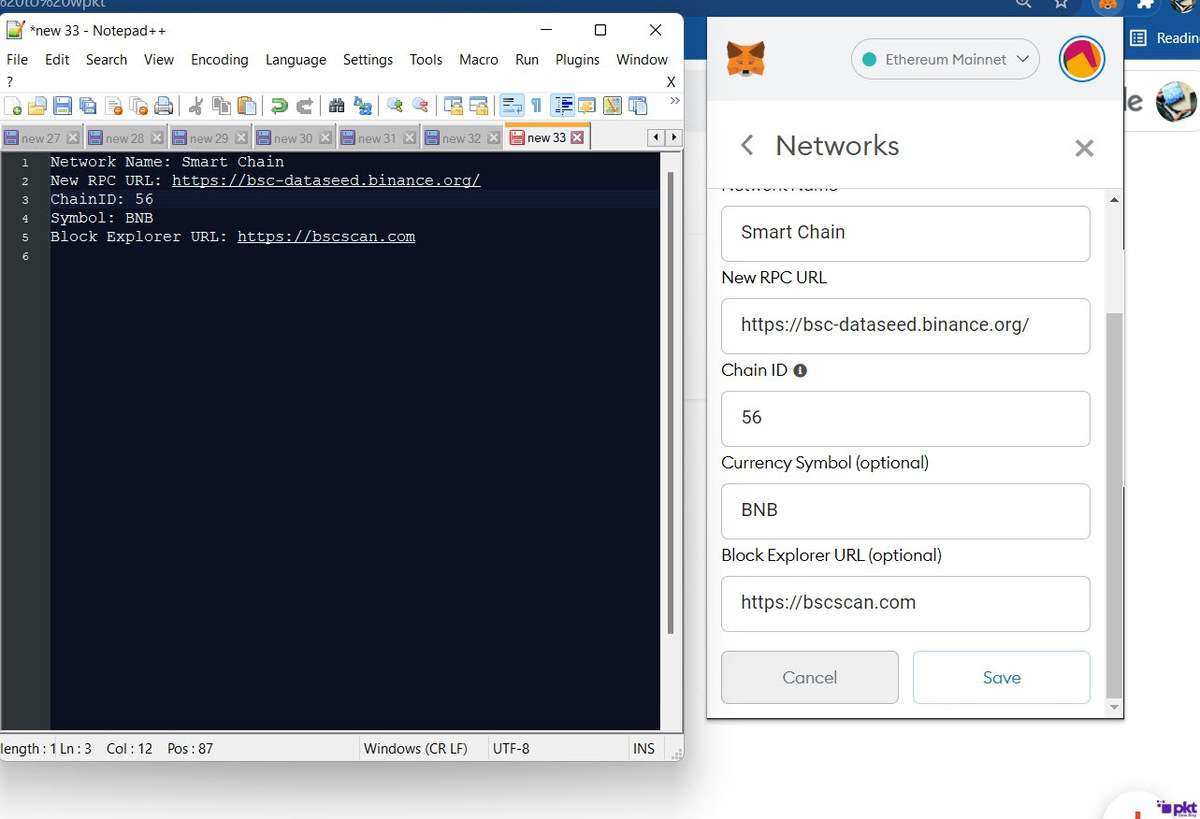 Pro Tip: Otherwise, the pop-up will disappear if the values are not copied into the notepad.
 You'll see the BNB logo if you're connected to the BNB Smart Chain.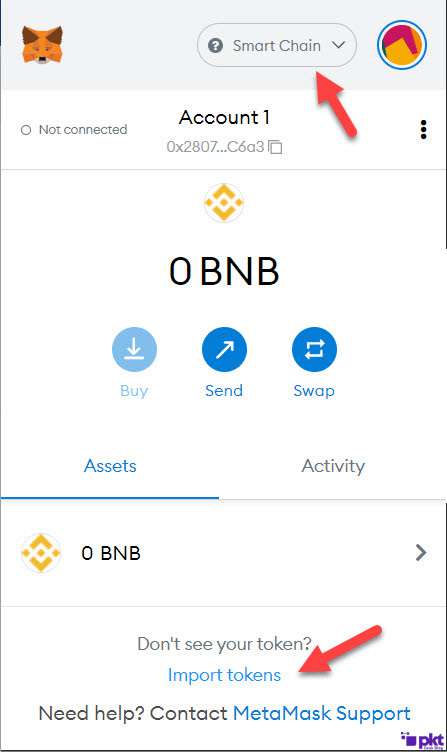 The next step is to import the wPKT token into the Metamask.
wPKT Contract Address: 0x1c25222994531c4ac35e4d94bbf7552c9aa92e32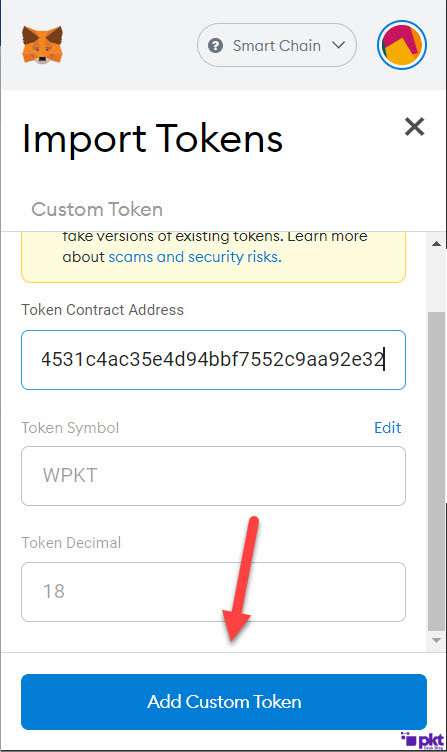 You'll see the WPKT like this: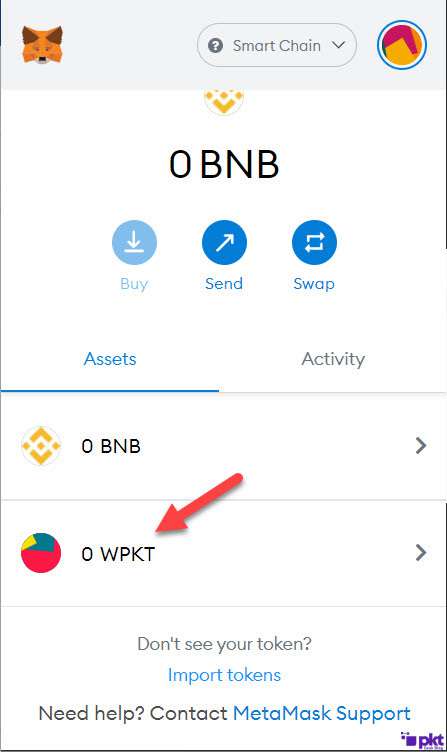 Congratulations! You're now qualified to convert PKT to wPKT.
Step by Step Guide to Converting PKT to WPKT
Step 1
Go to https://odapp.io/, click " Get WPKT" and connect your Metamask Wallet.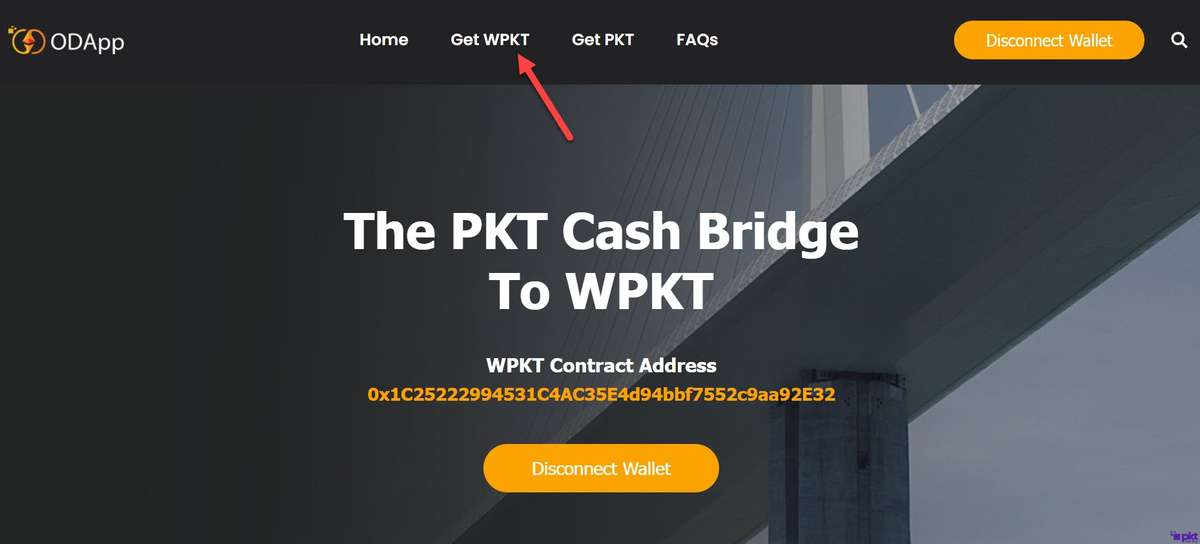 Step 2
Enter Your PKT Sender address in the "PKT sender address" field and enter your Metamask address in the WPKT recipient address".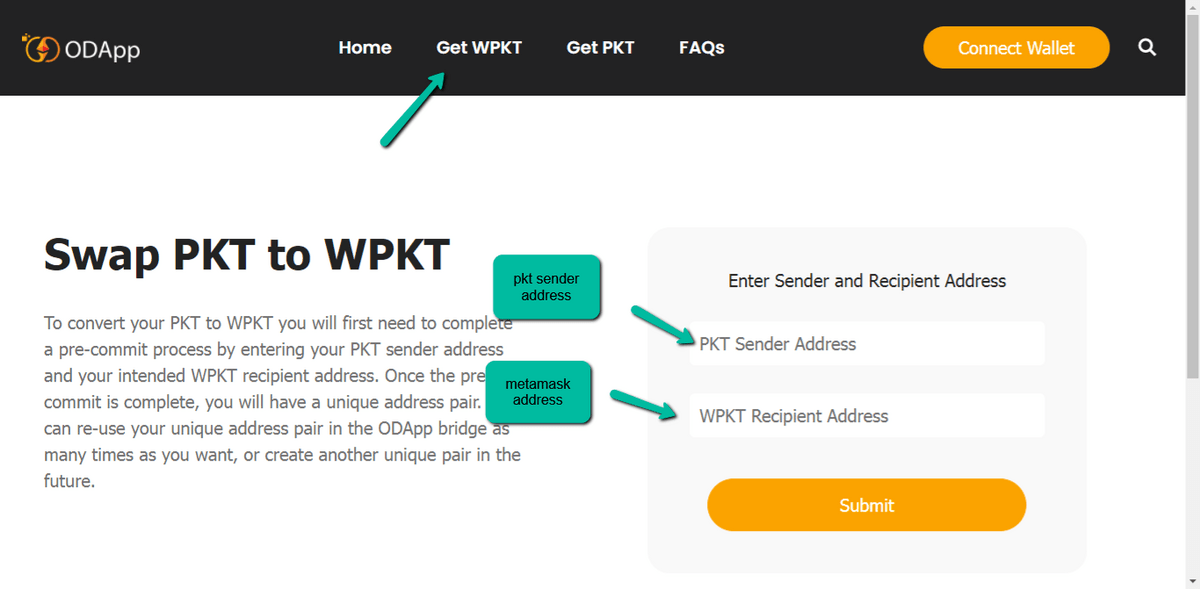 You can get your WPKT receipt address from your Metamask.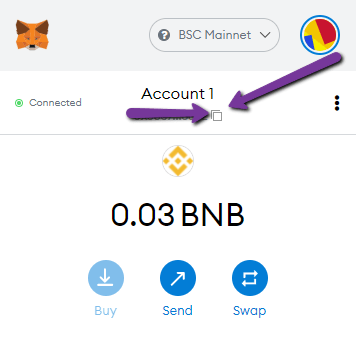 Step 3
Now it's time to hit Submit. Once you do you will get a notification as shown below and click get WPKT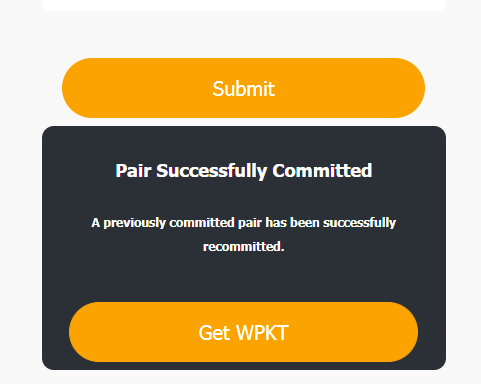 Step 4
Now you'll get a PKT address you can send your PKT to for it to show up as WPKT. You can send any amount, it will appear in your Metamask.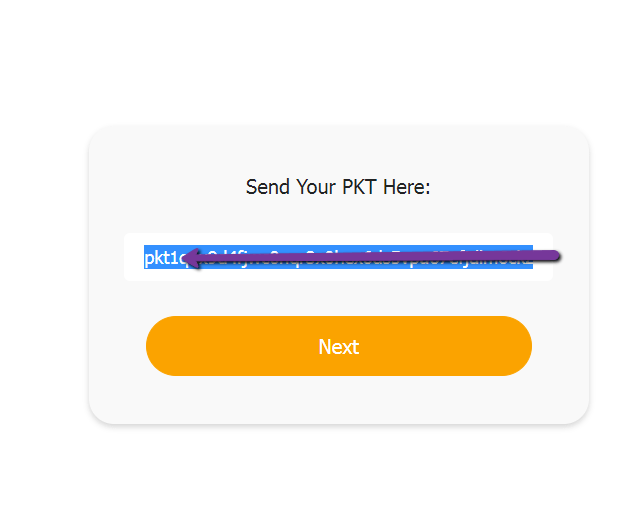 Once done, hit the Next button.
Step 5
Once you send PKT from your sender address to the PKT receive address. You want to enter the PKT transaction Hash data, PKT sender address, WPKT recipient BSC Address.
You can find the has transaction by clicking on this in the https://explorer.pkt.cash/address/YOUR-PKT-ADDRESS-HERE

Copy the transaction data (Hash)

Step 6
Now enter the DATA as shown here: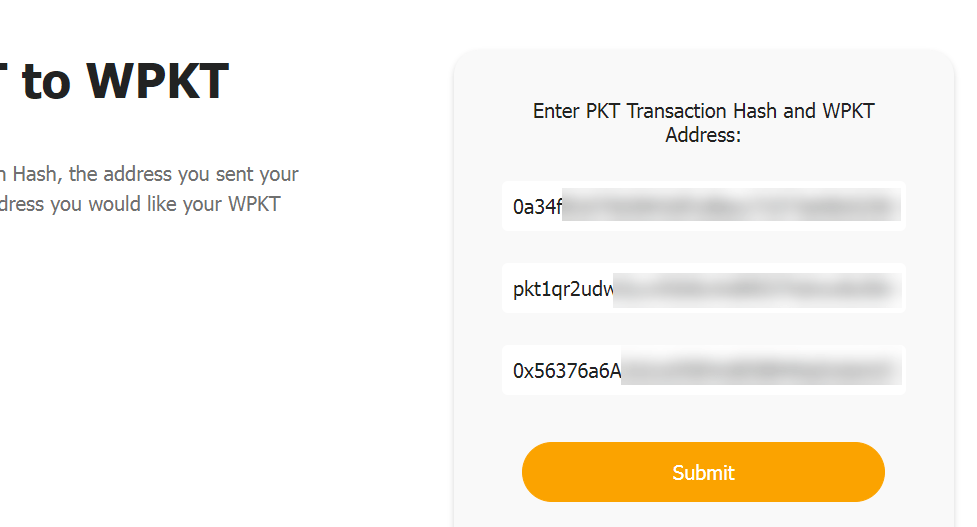 Hit submit. Make sure you have BNB available in your Metamask wallet. You will need this for the GAS fees.
Once you hit submit you will see a notification like this: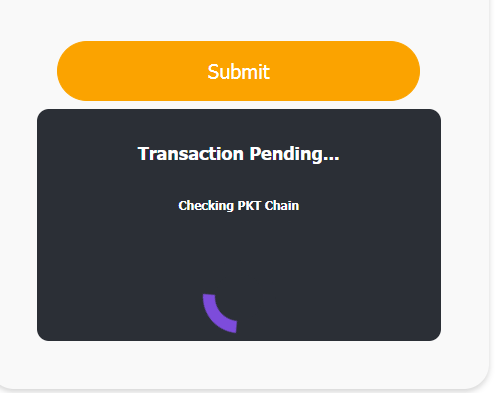 Step 7
You will get a notification in your Metamask wallet extension. Click it to reveal the GAS fee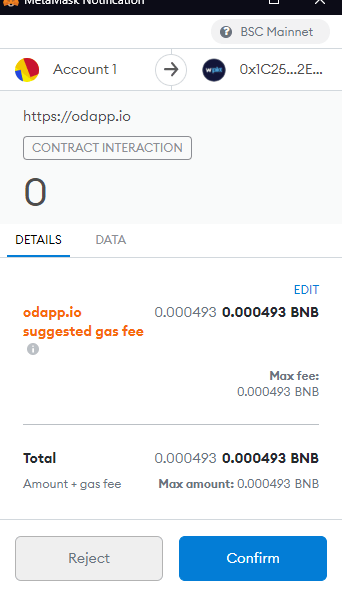 Click Confirm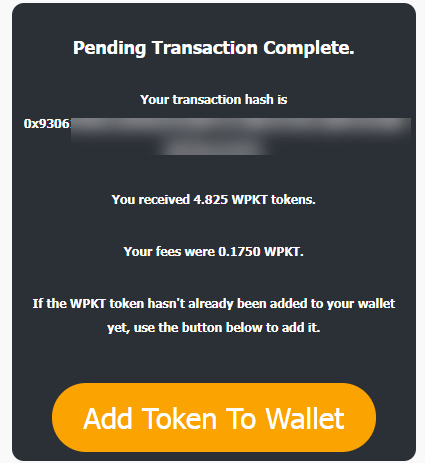 Now check your Metamask. You should be able to see some WPKT in your wallet. Make sure you add the contract address to your wallet so that you can see the token value within your wallet.
Recommended Readings: