On Akash Cloud, you can mine PKT coins easily and efficiently.
The Akash Cloud platform aims to make cloud platforms deployment extremely faster and more affordable than those offered by Google, Amazon, and Microsoft.
Similarly, PKT's aim is to push aside the ISPs that provide expensive and poor-quality internet services.
Enough! Let's talk business 😀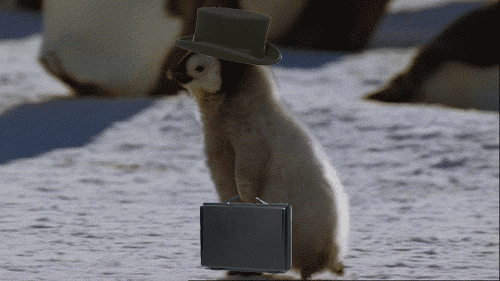 How to Mine PKT on Akash Cloud Step by Step
Having AKT coins is a prerequisite for installing an Akash server to mine PKTs. If you want to own AKT coins, you must own Keplr and be able to purchase them from an exchange or Osmosis as shown in the steps.
Step 1
Go to Google and type Keplr. It's a chrome extension like Metmask. We'll use it to create a decentralized AKT Wallet.

Step 2
Simply click to Add to Chrome.

Step 3
Once the extension is downloaded and opened, click "Create a new account." You'll get your mnemonic seed and keep a password in a safe place. Without the seed and password, you cannot ever recover your funds. You can use any account name.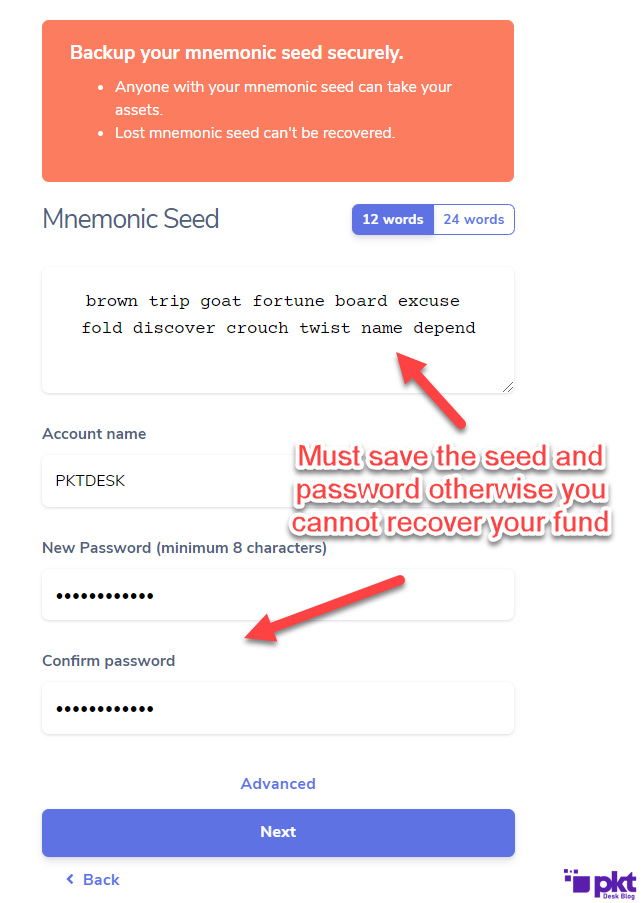 Step 4
Click "Done" to proceed to the next step.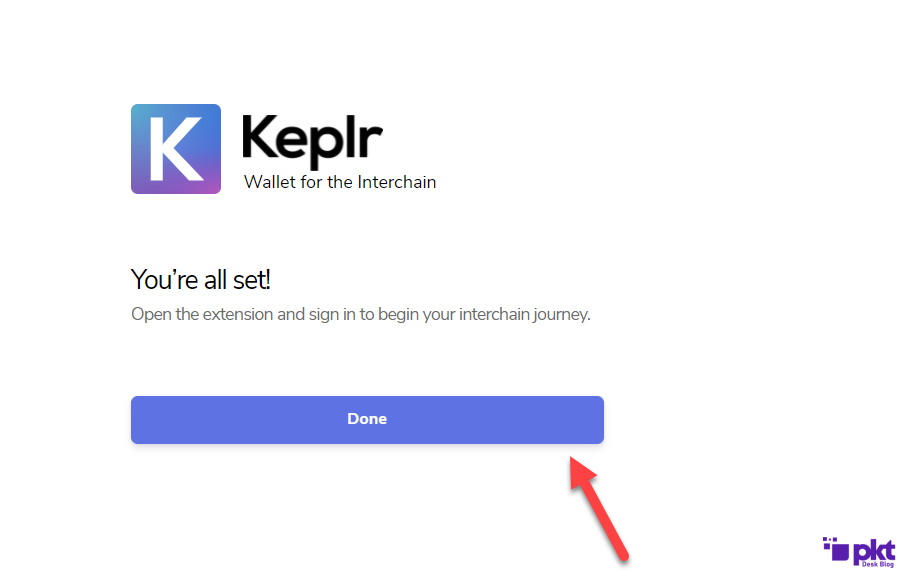 Step 5
Click the Keplr wallet from the extension and don't forget to change your Cosmos network to Akash.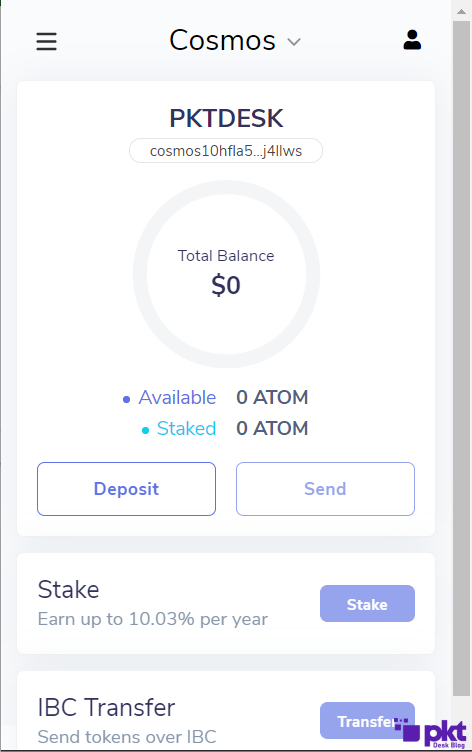 Step 6
As you have successfully created Kelpr, it's time to create an account on AscentEX where you can buy AKT by trading any coin like USDT or BTC.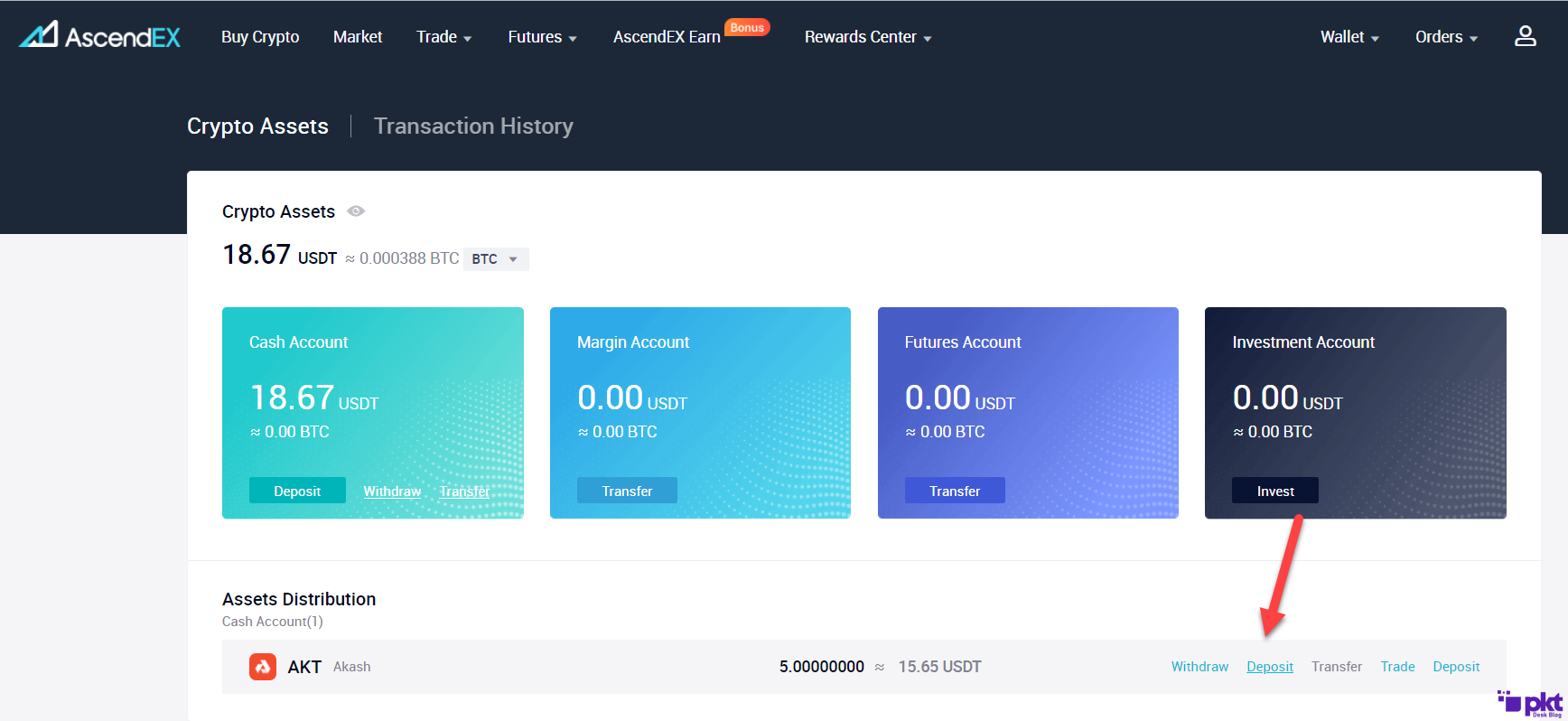 You can also use the Osmosis Zone to buy the AKT.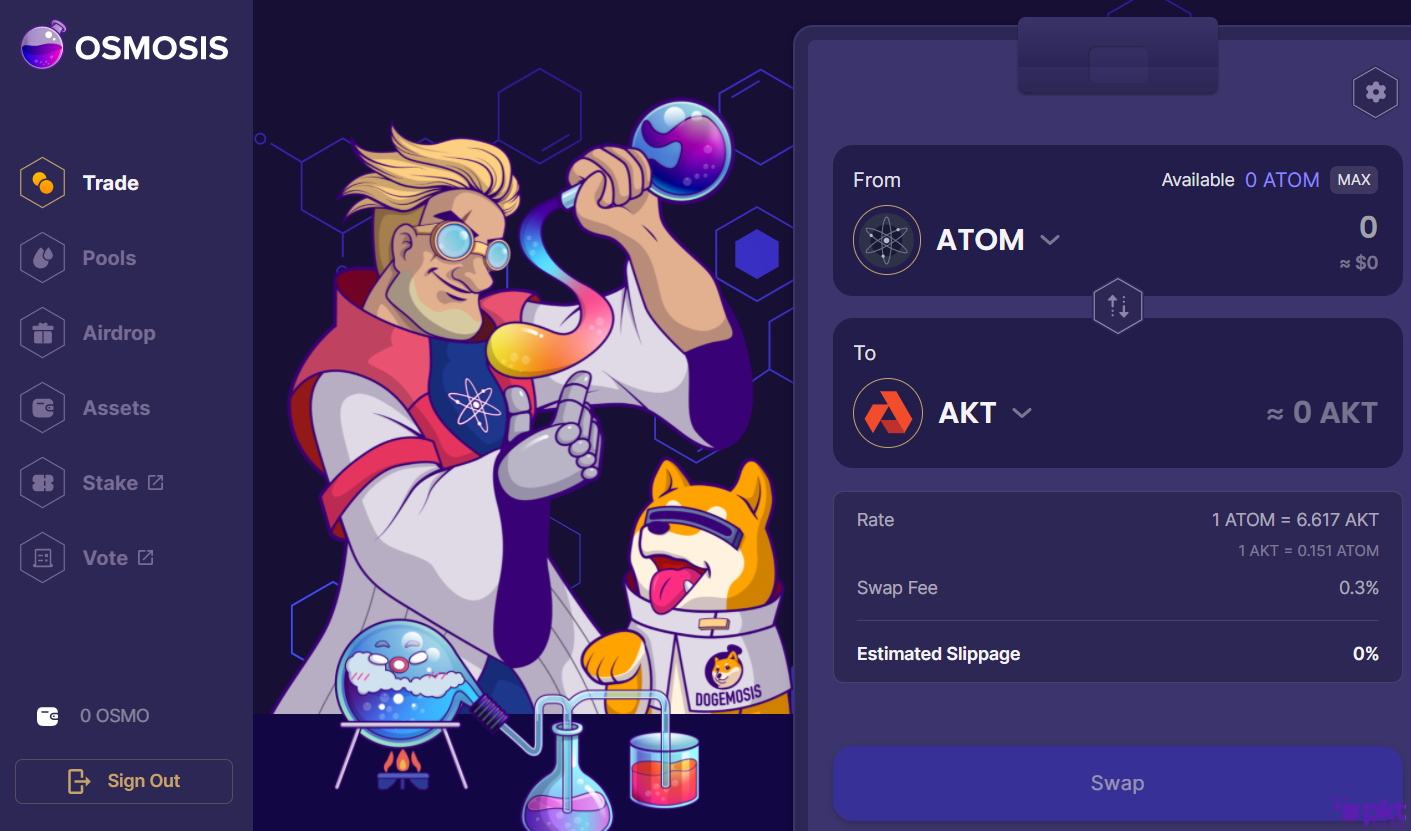 Step 7
In order to send the AKT from your exchange to the Keplr Wallet, you have to copy the Keplr Akash network address into the AKT withdrawal address. Put any amount of AKT that you want to send and hit confirm.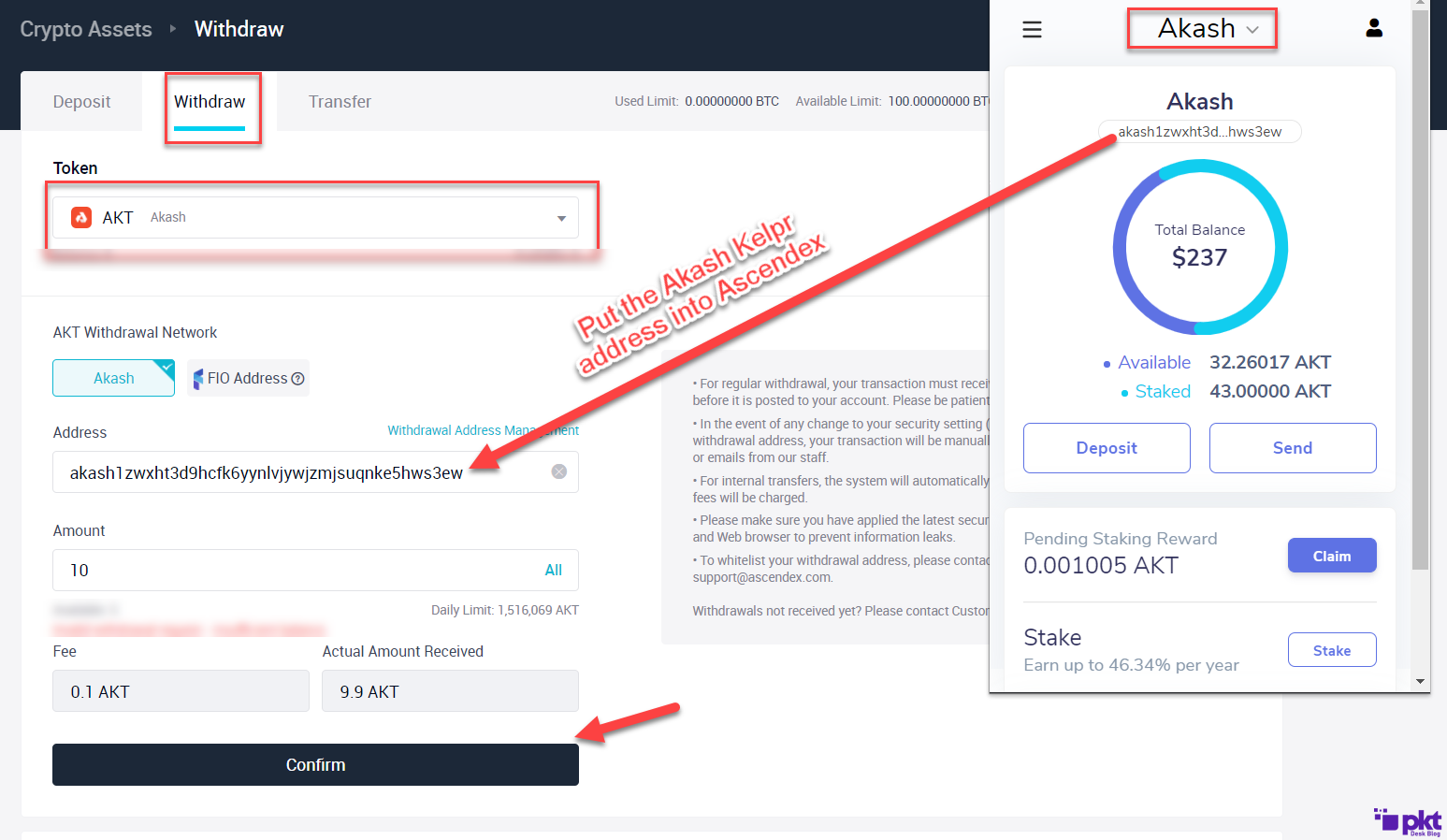 Note: If you have USDT, you can convert USDT to AKT by going to the standard cash trading.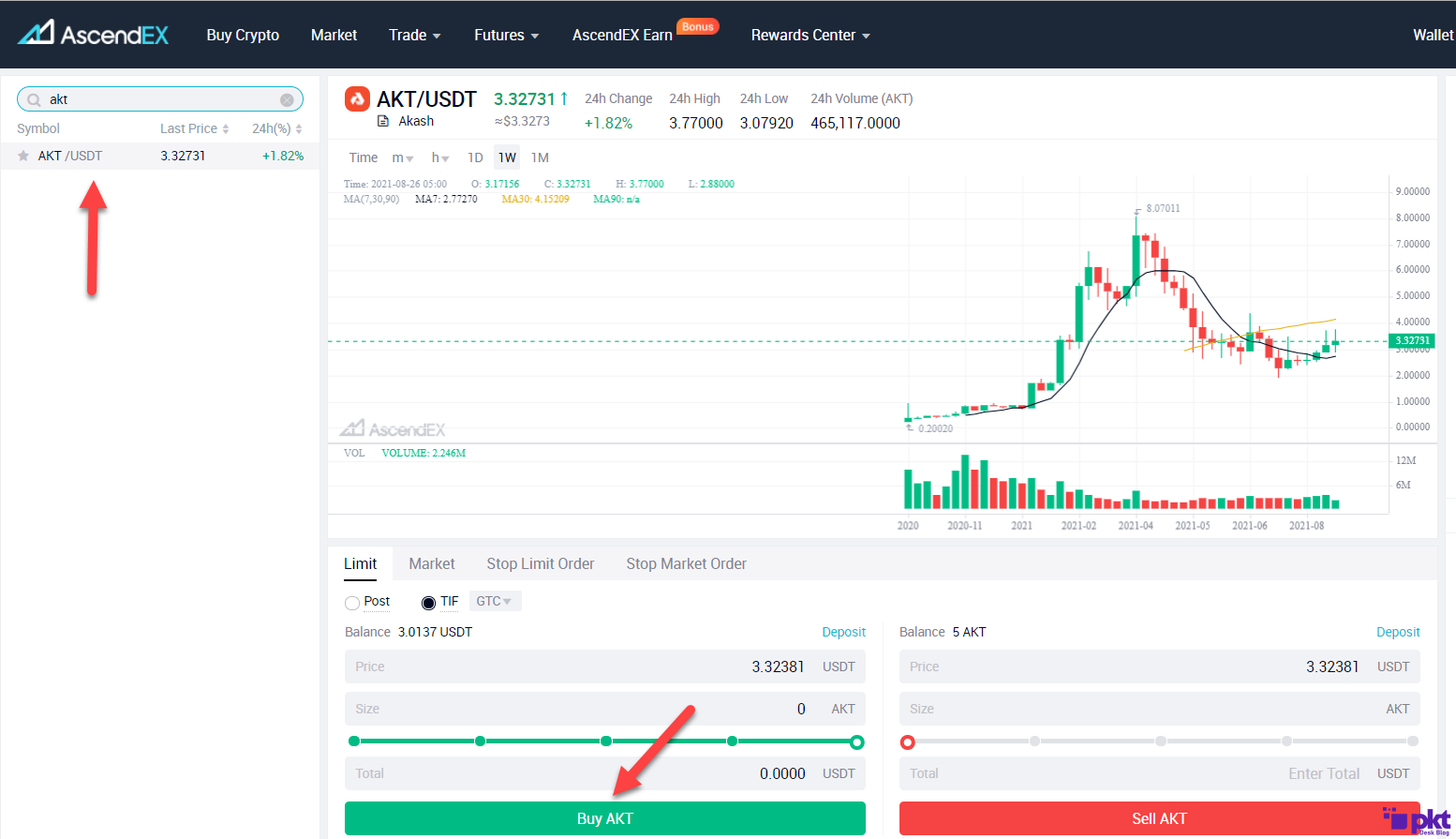 Step 8:
It's time to download the Akash application on your operating system. Due to the fact that I am running Windows 11, I have downloaded the Windows version.

Step 9
Don't worry about it being an unknown publisher. Click the More Info and then click Run Anyway.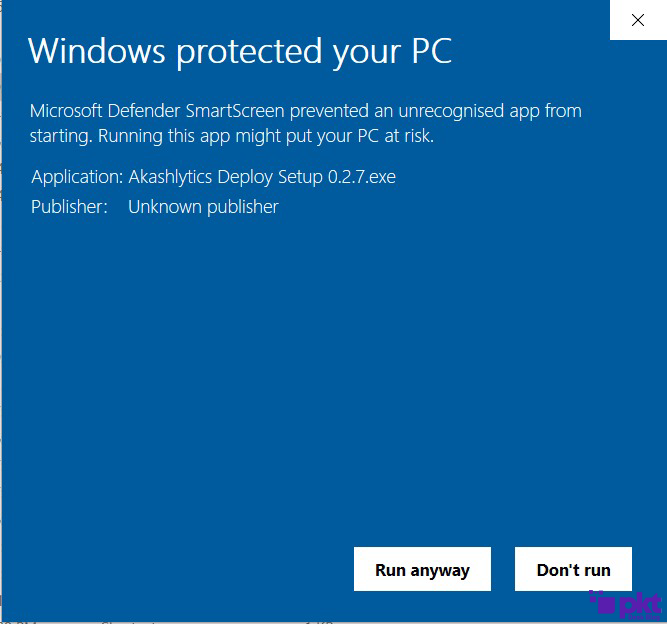 Step 10
Now put that seed where Kelpr generated in Step 3 and the password you used to create that wallet. Once done, click IMPORT.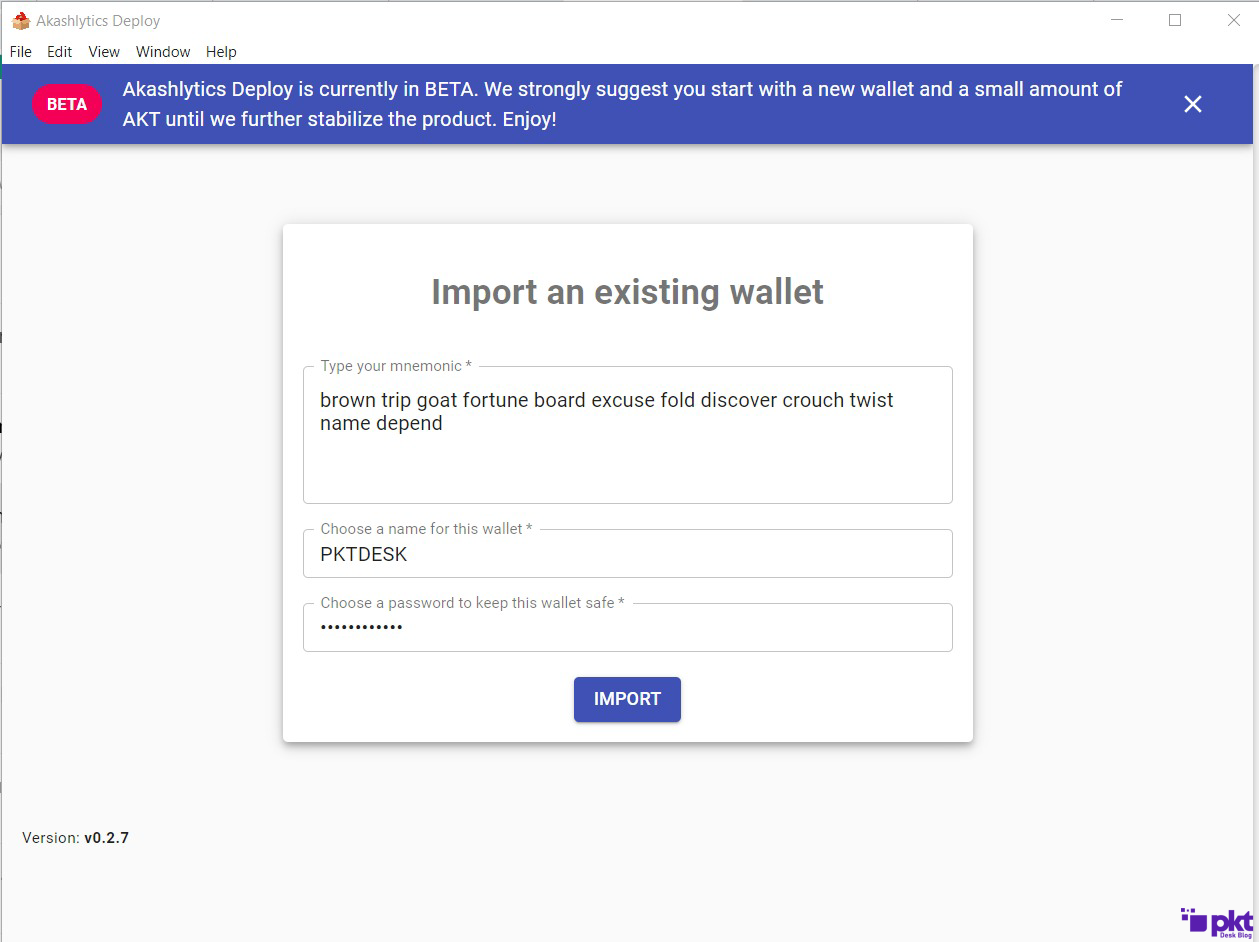 Step 11
You'll see a beautiful interface of Akashlytics. Creating a certificate is the first step. It costs just a fraction of AKT. Following the creation of the certificate, you should create the deployment.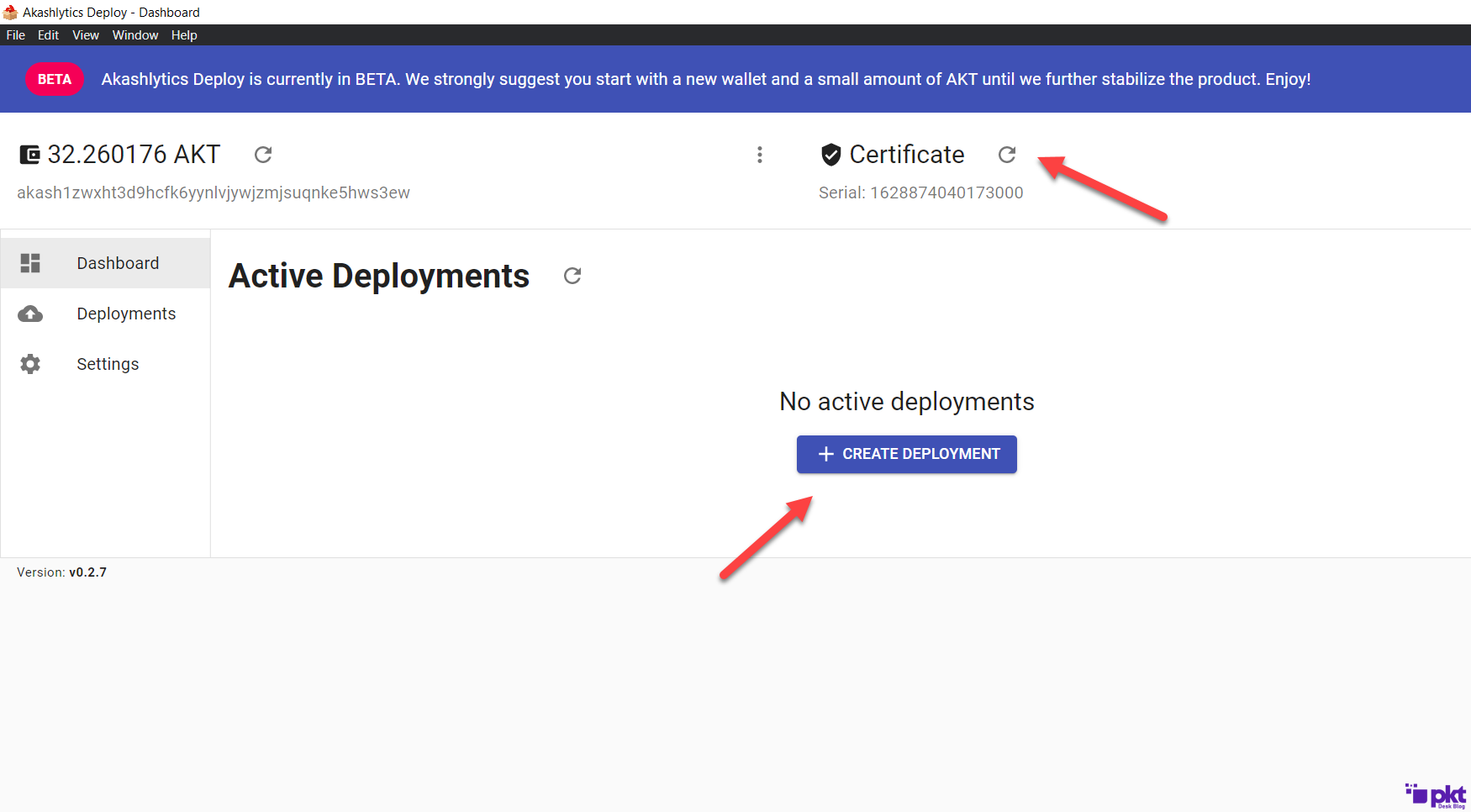 Step 12
You can create a deployment if your wallet balance is greater than 5 AKT, a valid certificate on the blockchain, and a valid local certification.
A local certificate is automatically purchased when you purchase a universal certificate; it does not need to be purchased separately.
Just hit Continue.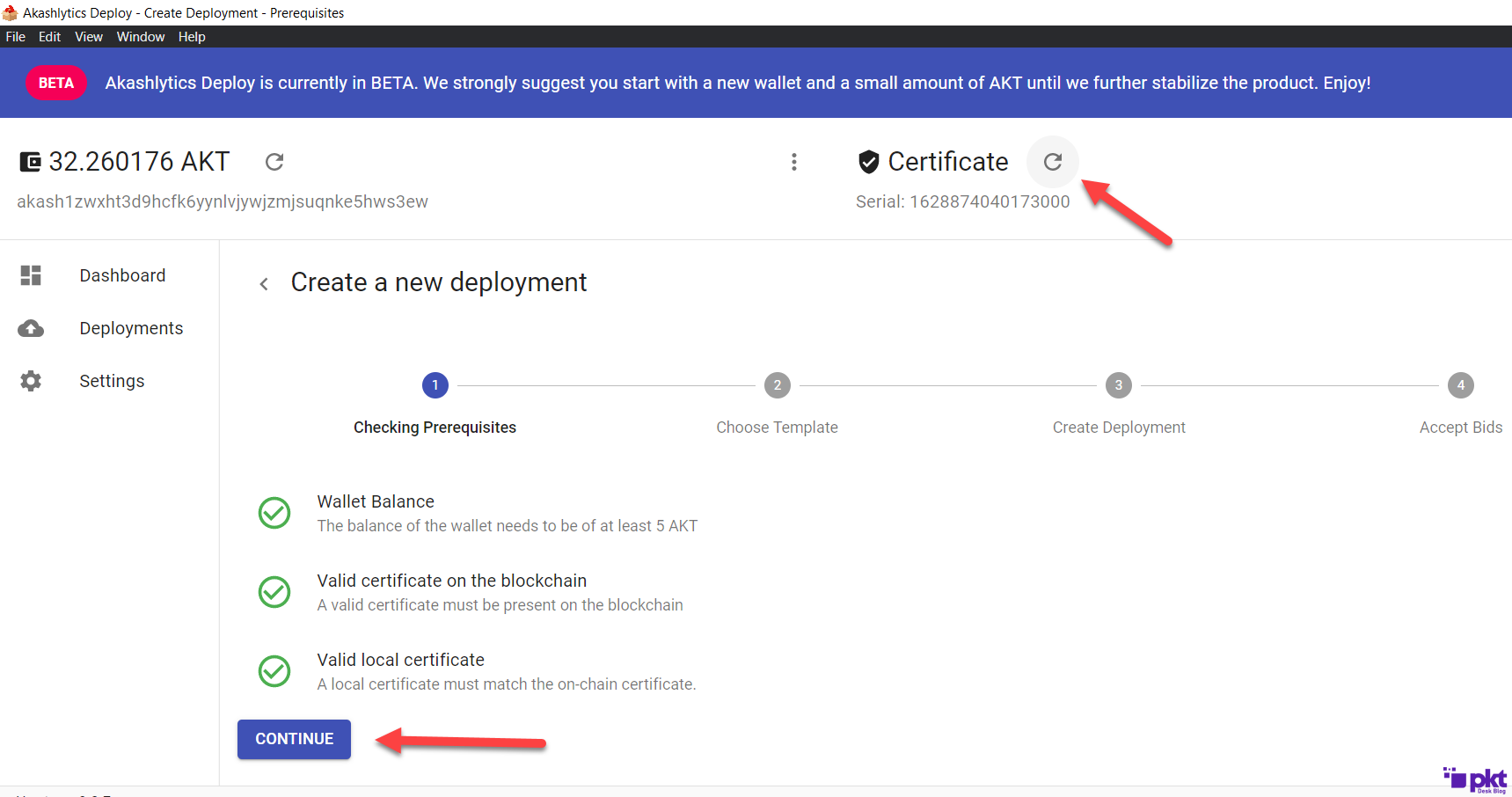 Step 13
Now select the "Empty" template and hit Continue.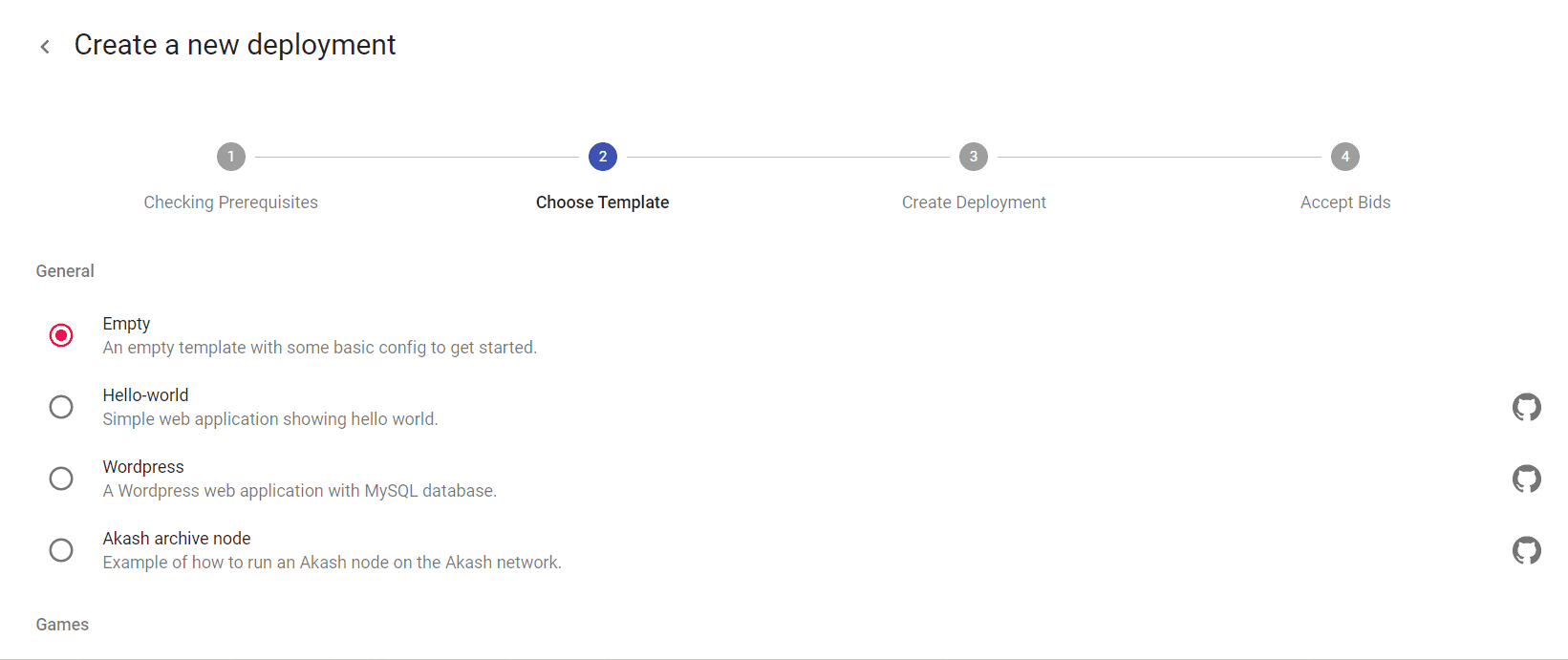 Step 14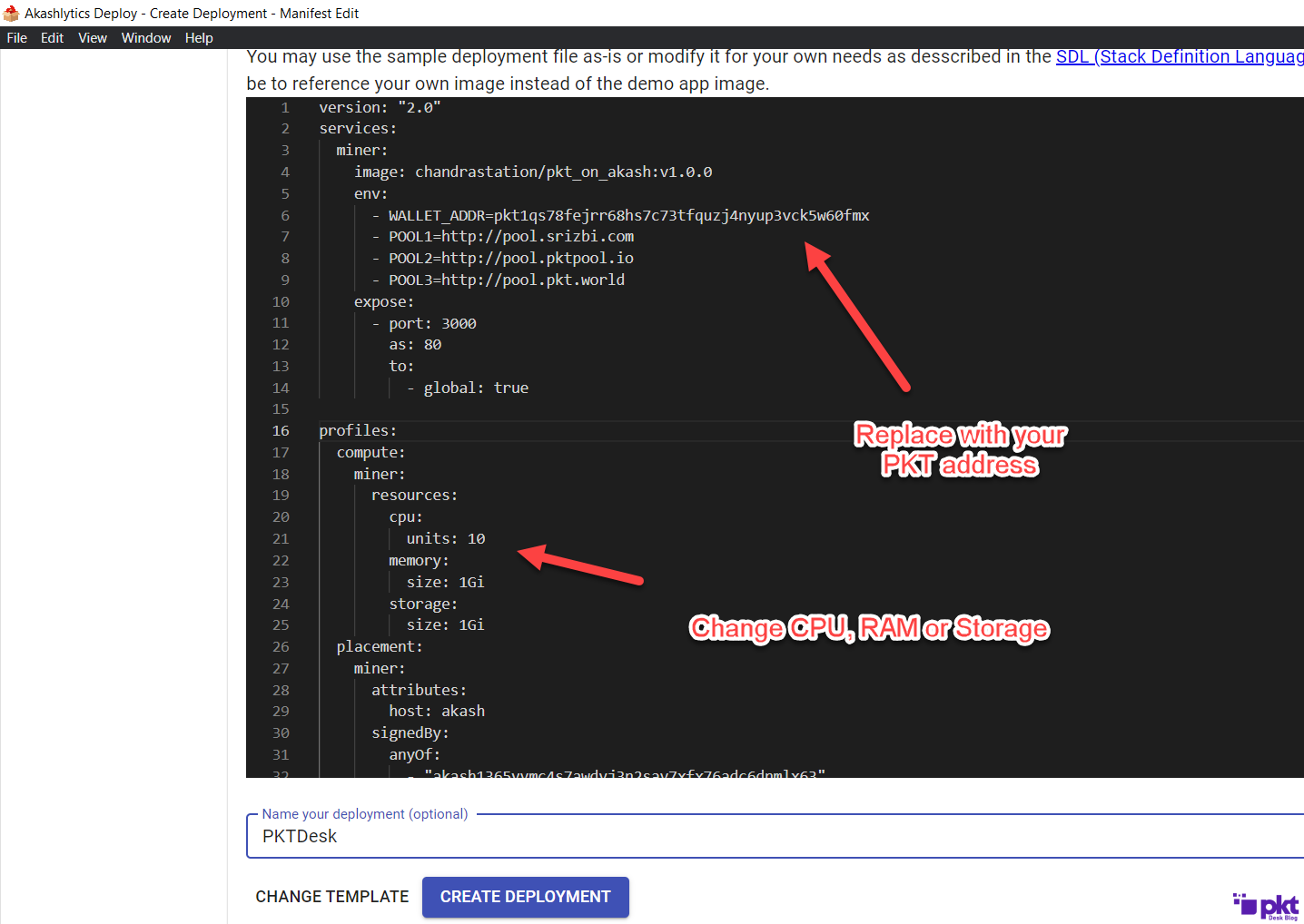 Now paste the script given below. Don't forget to replace your PKT address. If you don't have it, create a PKT address on Windows, Mac, or Ubuntu
Copy from Github here if script is not showing: https://github.com/aamirmursleen/pktdesk/blob/main/pkt_mining_on_Akash.yaml
Moreover, you can play with the CPU units, memorize size, and storage size. Units mean the number of cores, 1Gi is equal to 1GB and 1Mi is similar to 1MB.
Step 15
Here is a screenshot demonstrating the active deployment. PKT coin mining is being done successfully on the Akash cloud.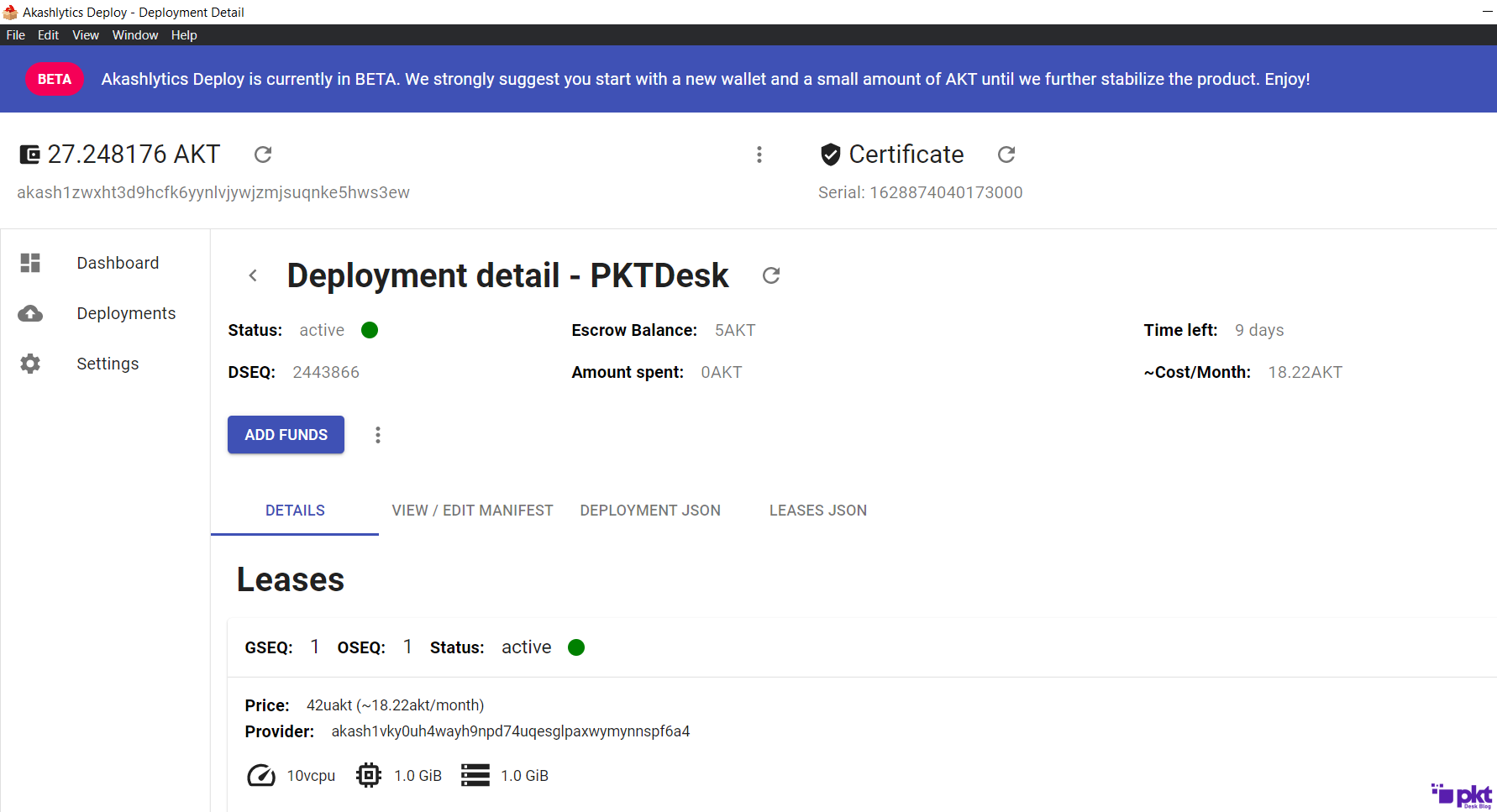 Step 16
Now go to the PKT Explorer and put your AKT address. It will show your hourly PKT mining rewards along with the bandwidth and encryption stats.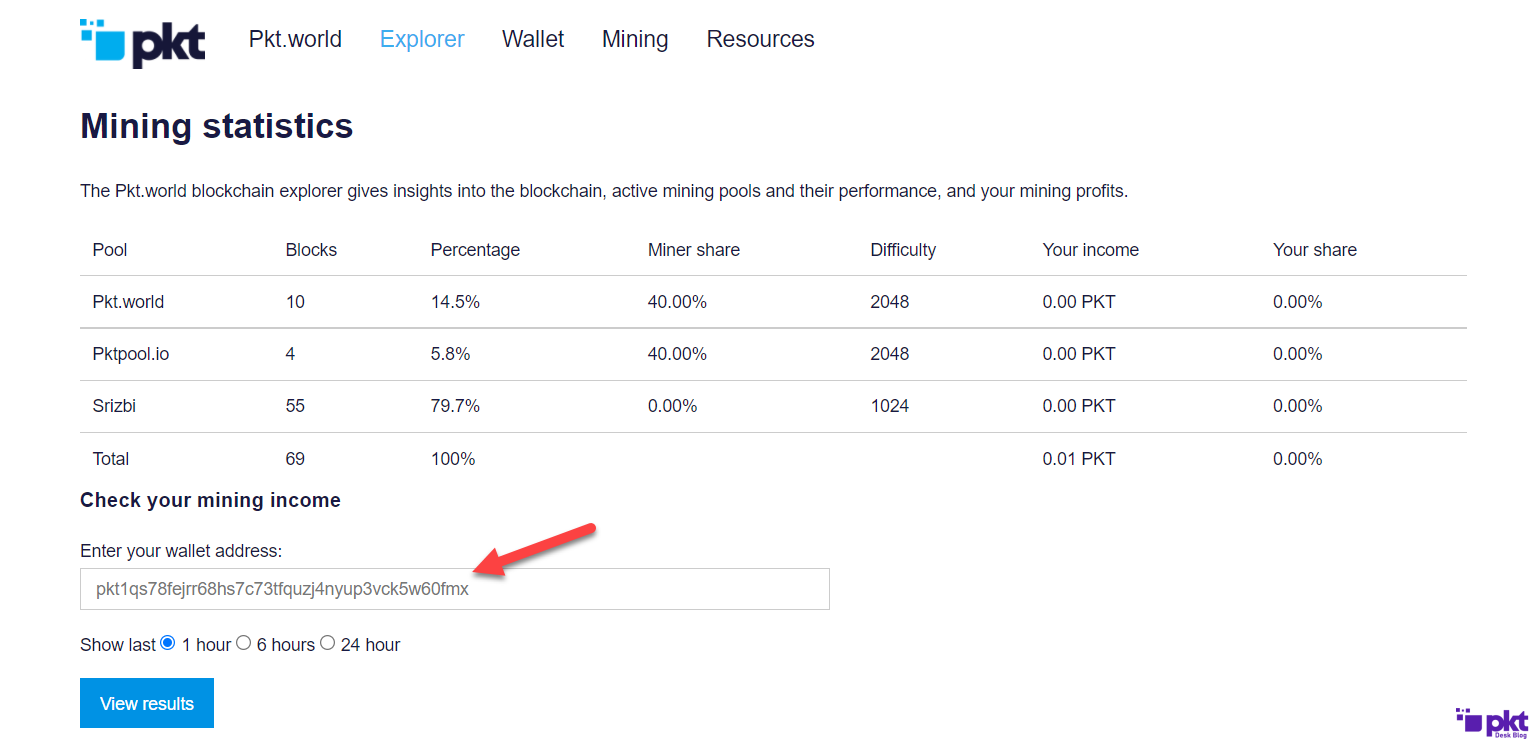 Pro Tip: You can close a deployment, and your AKT will be refunded instantly. 🙂

What Is the PKT Coin Profitability on Akash Cloud
Credit: @Dutch_CryptoManiac
The processor (CPU) plays the key computing power here, let's consider 3 options. These are rent of 1CPU, 5CPU and 10CPU.
Price 1AKT = 3 $ (of 08/26/2021). Price 1PKT = $ 0.025 (of 08/26/2021).
The cost of rent power for mining per month:
1CPU=2.603 АКТ or 7.809 $
5CPU=9,11 АКТ or 27.33 $
10CPU=17.787 АКТ or 53.361 $
In 24 hours we received:
1CPU =7.9 PKT ( 237 PKT per month) , 5CPU = 52 PKT (1560 PKT per month), 10CPU = 92 PKT(2760 PKT per month).
Cost of mining 1PKT:
1CPU=0.0325375$
5CPU=0.0177138$
10CPU=0.019863$
Total income-expense for a month at a price 1AKT=3$ and 1PKT = 0,025$:
1CPU (237*0,025)-7,809=-1,884 (ROI-334% in year , loss 27.83 % per month, profit margin -31.8% per month)
5CPU (1560*0,025)-27,33=11,67 $ (ROI 406% in year , profit 33.83% per month, profit margin 29.92% per month)
10CPU (2760*0,025)-53,361=15,639$ (ROI 299% in year, profit 24.92% per month, profit margin 22.67% per month)
Thus, the most profitable thing at the moment is to use the power in 5CPU.
Moreover, it's the table that can help you to find the best settings: